We sometimes get questions about what WordPress hosting or other services we recommend. In this article, we will share our experiences and services that we can recommend. We will start with the basics, i.e. the choice of hosting.
WordPress is the most popular CMS for creating websites. Due to the possibility of large expansion thanks to many add-ons, including premium plugins that can be purchased, among others, through our store, and the technology in which it was made, it requires appropriate hosting. Page loading speed is a very important factor. For example, 79% of buyers who encountered problems while loading the page declared that they would not visit the store anymore, and pages that load in less than 2 seconds have a bounce rate of 9% where for 5 seconds it is 38%. Below are the solutions we can recommend. In each of these hosts, the speed of operation is at the appropriate level. This is the basic parameter which, when it is not at an appropriate level, excludes a given offer regardless of other factors.
If you would like to know more what to look for when choosing WordPress hosting, go to: Page load time for WordPress, what should you pay attention to?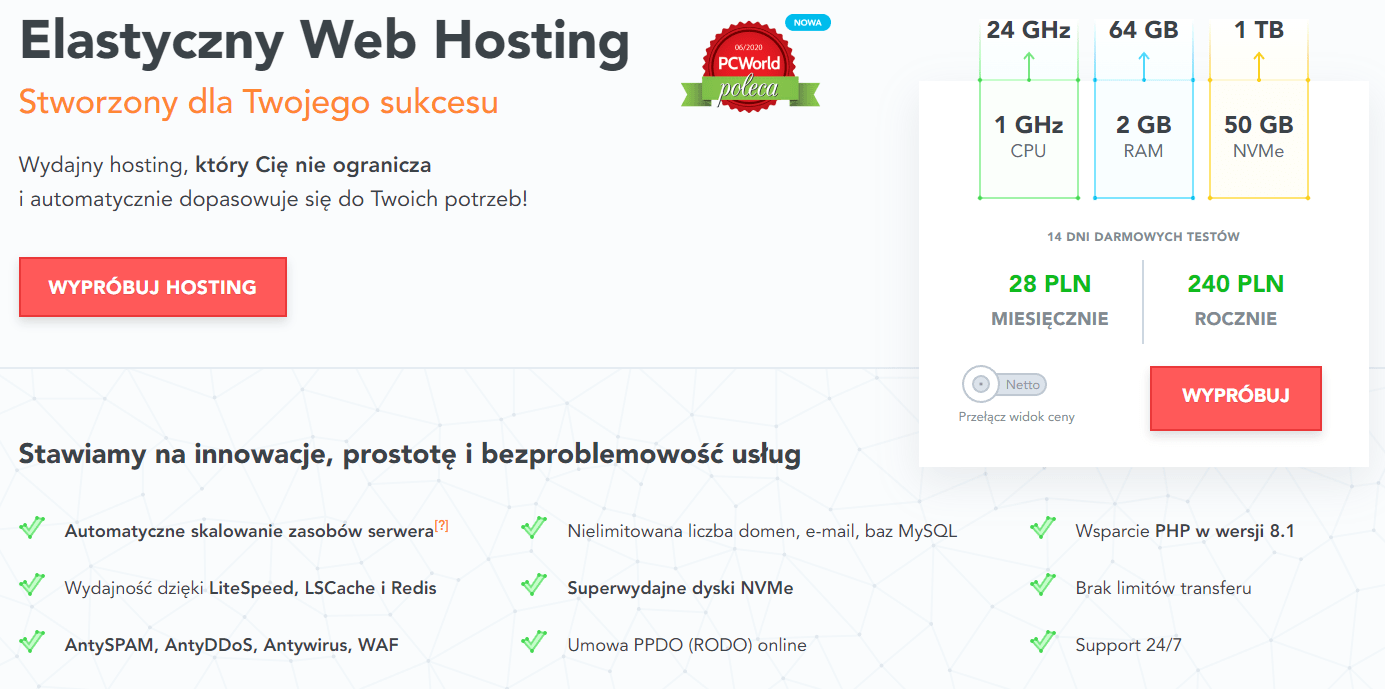 This is the hosting on which our store and our other projects operate on the same hosting account. We decided on this offer thanks to the unique flexible hosting scaling feature. There is one plan available where, with active scaling, you will only pay for the additional resources that are needed at the moment. A frequent problem is the need to purchase a higher plan due to periods where more power is needed. However, most of the time the website may require minimal resources, which is why we overpay.
On the other hand, access to more power is necessary. For example, it is a very unfavorable situation when, for example, a sudden larger traffic from a paid advertising campaign will cause the website to be blocked due to exceeding the guaranteed resources. We lose double then. Flexible hosting solves all these problems. Thanks to this, you can also have many websites on one account, and when a project develops one day, you do not need to look for a stronger hosting plan. The price for additional resources is calculated as if we had a higher plan at the standard price, of course keeping the proportions for the time we need it. So it is not that we pay more for these resources than if we had a higher plan with the same parameters.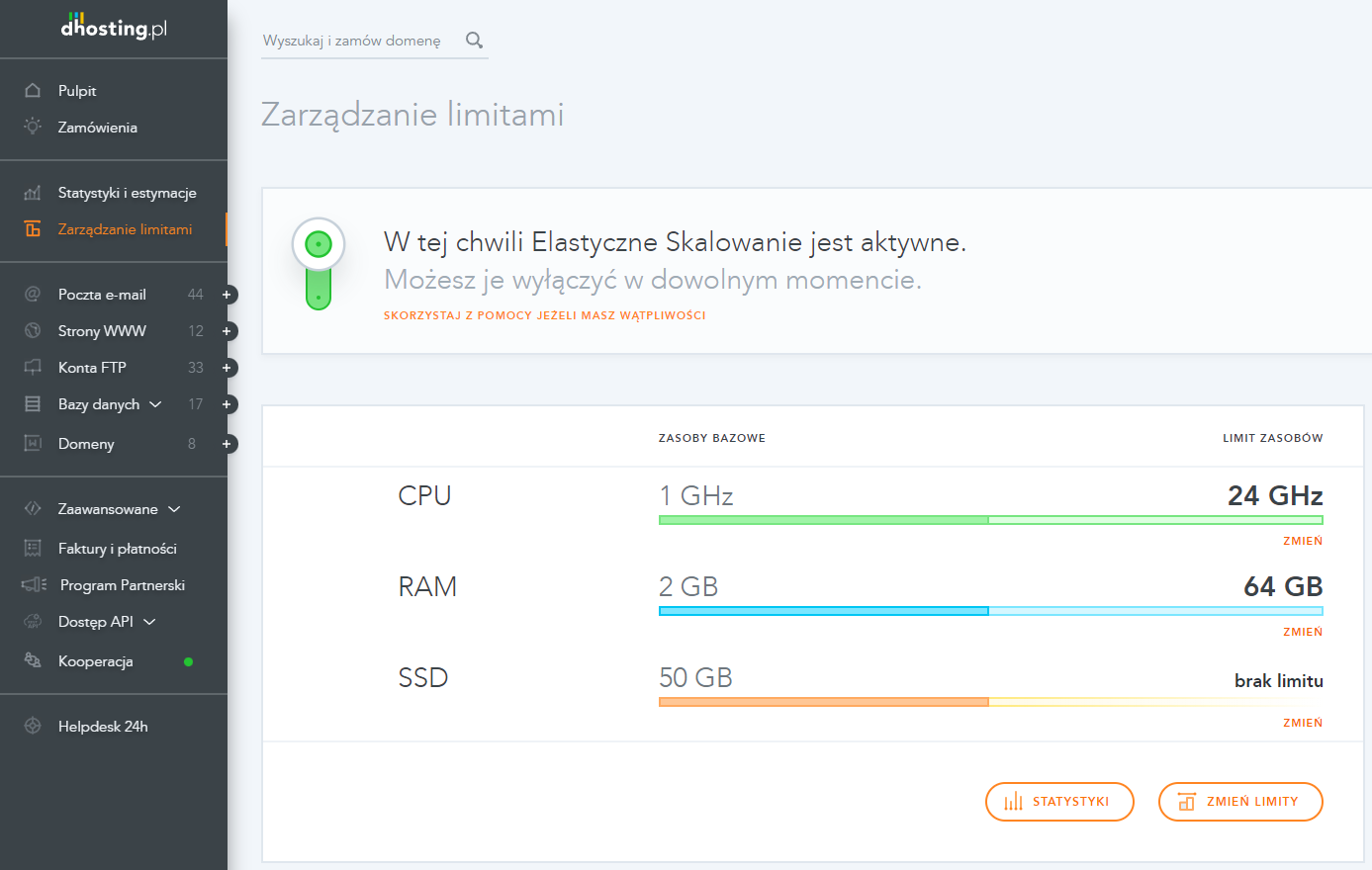 Our panel with flexible scaling widget
dHosting.pl is a service that combines the advantages of shared hosting and a dedicated server, as well as cloud computing. The servers are based on the latest and fast LiteSpeed and also have LSCache and Redis server support. Importantly, from the point of view of WordPress, there is also access to SSH and WP-CLI, thanks to which we can use scripts that automate work and manage the website via the console. In addition, hosting is characterized by its own proprietary panel where, compared to the competition, even a beginner is able to easily perform all operations. Also, starting the Cloudflare service or generating free SSL is actually done with one click. Of course, the hosting has an application installer, including WordPress, so when we create a new page, we can immediately install a new WP page on it and the system will generate a PDF file with all access data. It is also important to be able to easily change the PHP version for the website, because some plugins and templates require the right version to work, and choosing the latest version of PHP 8 is not a good solution. There is no problem with that here.
The initial parameters are 1GB RAM, 1 GHz CPU and 50 GB SSD disk. These are resources that we do not pay extra for - they are included in the annual fee. We will only pay for using more of a given resource in a given time period, i.e. if we need access to more processor power for a few seconds, we will pay for a few seconds more power, which makes the whole thing very profitable.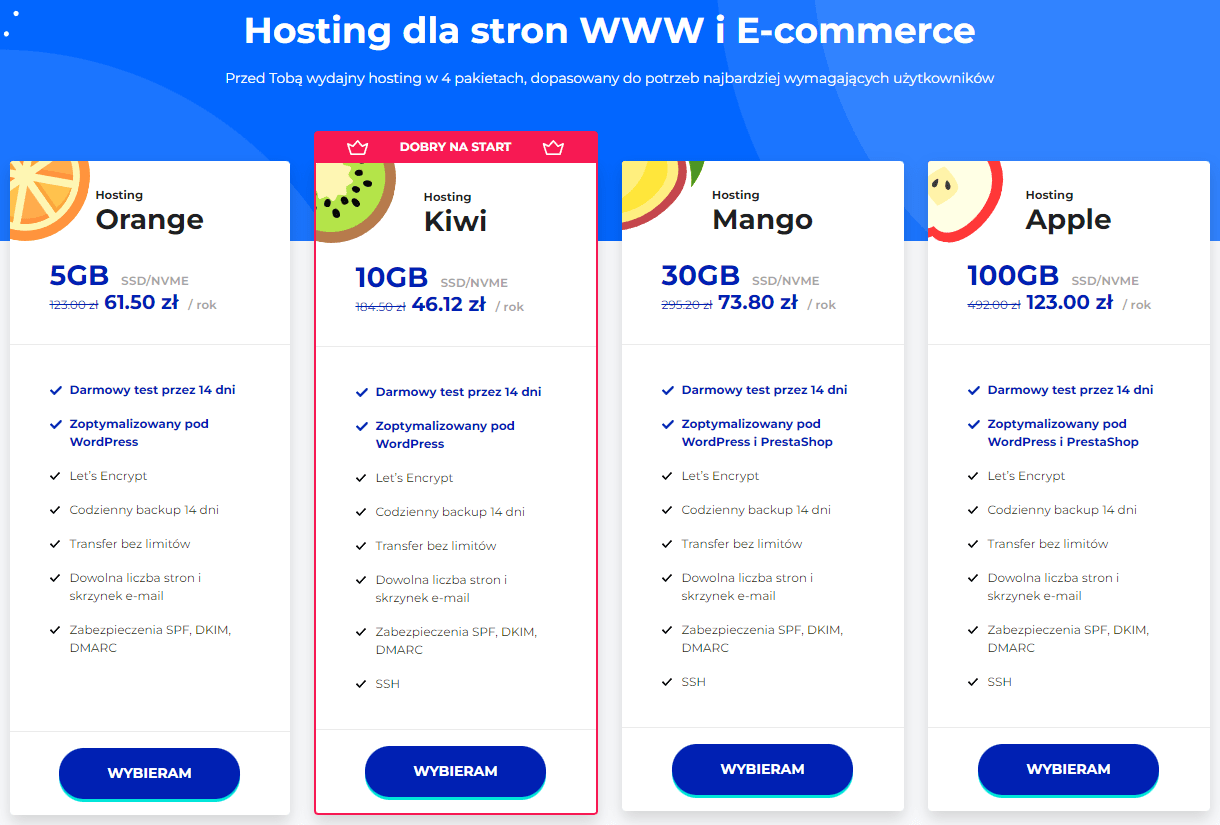 LH.pl is the second hosting we can recommend. This is an offer for people who are looking for something proven for WordPress that will continue to work quickly and is at an affordable price. LH.pl has been operating on the market for 19 years. It is characterized by the fact that they have one of the fastest servers in Poland. It is also a classic hosting offer where we have a variety of hosting plans to choose from. The prices of the simplest plans are extremely attractive and start from PLN 50 net for the year in the promotion. For this price, we get 5GB of disk space, which is enough to set up even a few simple WordPress websites. This hosting may require a little more optimization than your settings dHosting.pl, the panel is also not as well-developed as it is in our opinion dHosting.pl.
Where is it worth registering domains - SeoHost.pl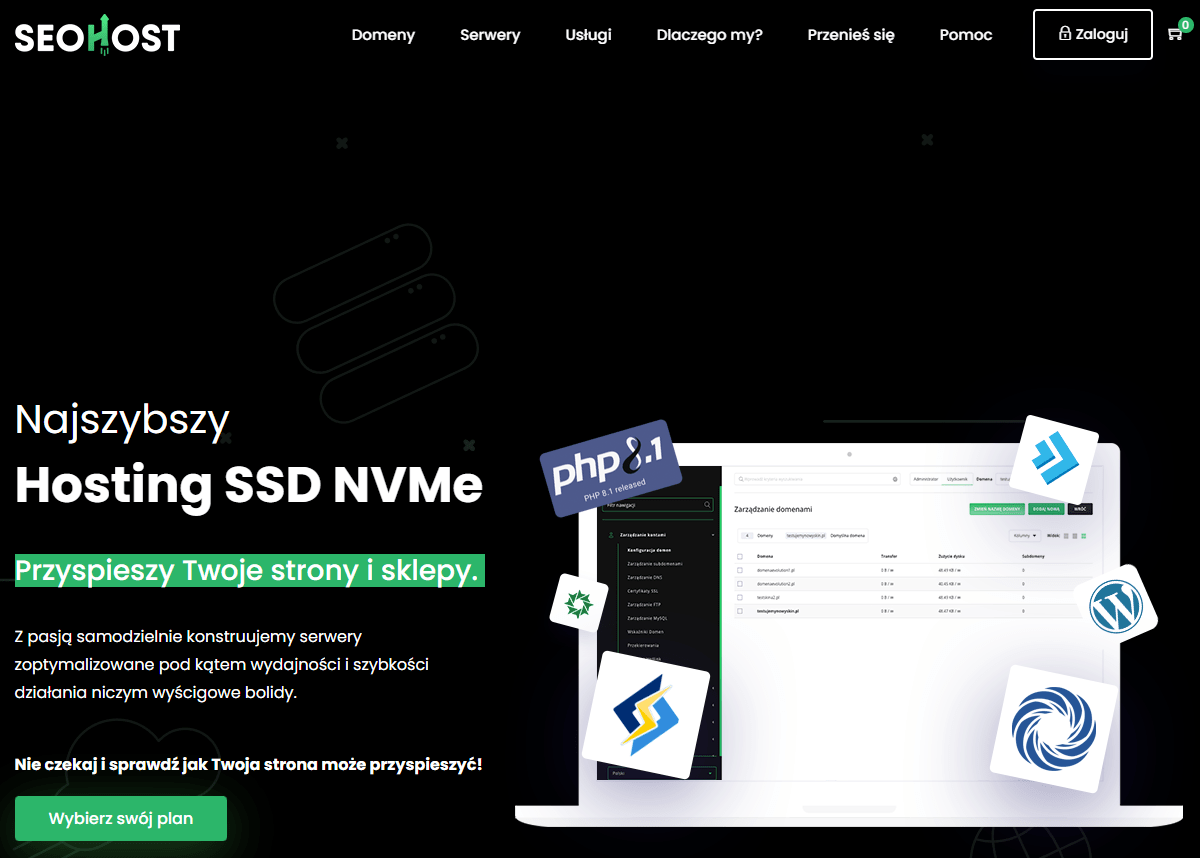 Usually, using domain registration with companies where we have hosting is not a good solution. Prices are often higher, because such companies mainly focus on hosting and treat domain registration as an addition, so they can afford higher prices. In the case of domain registration, the competition is even greater than in the case of hosting services, which is why the differences are significant. The main criterion here, of course, is the price, and we recommend it SeoHost.pl. Despite the rich hosting offer, including hosting dedicated to SEO (many different IPs, etc.), this registrar has been leading the rankings for years as the cheapest registrar in Poland (extension price, .pl domain), which means SeoHost.pl it is often treated as a place to register domains.
SeoHost.pl it is simple and intuitive, it even reminds us of a very refined panel dHosting.pl. Support is also helpful for domain operations. Delegating a domain to our hosting DNS servers and other activities are very simple and intuitive. In the case of domain registrars, we must also be very careful about promotions for the first domain registration. Sometimes it is 0 PLN, and this price is due to the fact that then the extension is very expensive, and the transfer of the domain is even more expensive. It can be said that it is some kind of a trap. This was the case with offers such as name or az. Be wary of such promotions. There is no such problem here.
We hope that our tips have been helpful in choosing the basic services that will allow you to maintain your WordPress website in a cheap and efficient manner.